Housing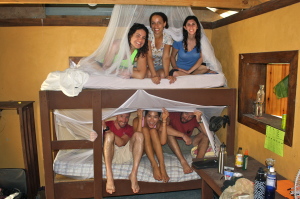 For the majority of our trip we'll be staying at Haiti Communitere (HC), which is located in the Clercine neighborhood of Port-au-Prince, about a 15-20 minute walk from the airport. HC is a secure, gated base with 24-hour security guards that has the feel of a hippie commune. It's home to various other short and long-term volunteers working on their own projects, many of which focus on sustainable housing and sanitation.
You'll be living in one of two communal structures on base with 4 or 5 other people from the trip. These houses have bunk beds, linens, pillows and mosquito nets. In the main house there are also small lockers to store your money, passport and valuables. If you want more privacy, you can set up a tent somewhere on the property at no extra cost. Just let your leader know in advance. If you'd rather sleep inside the main house (in a more proper bedroom set up) we can see what's available but note, this will cost extra and may be booked up, but we can definitely check.
In terms of amenities, there is electricity (most of the time) on base and very slow WiFi. There is no A/C. There is running water and outdoor showers and Culligan water coolers for potable water. We do have an amazing Biogas flush toilet on base but we mainly use compostable toilets, which can take some getting used to. You may be asked to change them at times, but it's for the earth. Again, hippies. (Ps if you're on Doxycycline for malaria, you won't be able to use the biogas toilet.)
Keep in mind, HC is a SHARED, COMMUNAL space, not a hotel so you'll be asked to pitch in around base in terms of cleaning dishes, changing toilets, etc.
Check out this video about HC to give you a better idea of what to expect!